I feel like I'm in a fucking history class right now. First, Israel attempts to re-enact the Warsaw Ghetto with the Palestinians in the starring role, and then the Palestinians attempt to re-enact the Exodus 1947 except with Israel substituting for the British. Successfully, I might add. They baited the Israelis into doing exactly what they wanted the Israelis to do -- re-enact the Exodus 1947 situation exactly, except with Palestinians in place of the Jews and Israelis in place of the British. And thing is, the Israels *knew* this is what the activists wanted. Fuck, the activists even *told* them so, *dared* the Israelis to do what they did. And the Israelis took the bait anyhow.
So anyhow, the next thing I get from Israeli apologists is, "well, the embargo is necessary to keep military weapons out of Gaza." Really? Courtesy of Andrew Sullivan, let's look at some of the military weapons that Israel is embargoing at the moment...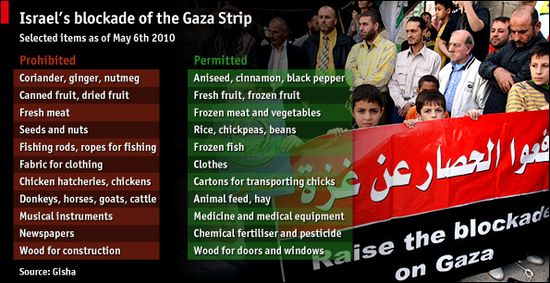 OMG! F33R the Coriander of Mass Destruction! Flee the Chicken Bombs of Biological Warfare! Beware the Canned Fruit of Genocide!
Uhm, honey, if you're gonna claim that the embargo is about keeping military weapons out of Gaza, how about restricting it to things that, like, are usable as military weapons?
But of course the embargo isn't about keeping military weapons out of Gaza. It's about keeping the Palestinians as impoverished and embittered as possible so that they will remain enemies of Israel. See, Israel's politics requires that Israel have enemies. Israel's current leaders came to power because they rant that Israel is under seige, Israel is threatened by enemies on all sides, and only they are qualified to protect Israel. If there was a viable and thriving Palestinian state, the fact that Israel has no real enemies anymore would be embarrassingly clear, and their whole political situation would become unviable. As I have pointed out in the past, Israel no longer has any external threats to its existence, so Israel's toxic politics requires that they manufacture one -- and what better one than those poor schlobs the Palestinians, who lack any ability to be a real threat and thus are safe to turn into enemies?
-- Badtux the Geopolitical Penguin